About the CAES Consortium
CAES is a research and education consortium consisting of the Department of Energy's Idaho National Laboratory and the public research universities of Idaho: Boise State University, Idaho State University and University of Idaho. CAES harnesses the power of collaboration, closely integrating the universities and national laboratory to solve critical energy challenges while providing workforce training opportunities and encouraging economic development in communities throughout the region. CAES accomplishes this through cutting-edge research and programs and services that pair university students with INL researchers and industry partners.
The CAES consortium provides multi-institutional expertise, capabilities, and state-of-the-art facility access required to address grand energy challenges. CAES lowers the barrier to collaboration through joint planning and programs across research, education, and innovation to create leading-edge opportunities for member researchers, faculty and students that would otherwise be unavailable.
CAES Provides
Opportunity for capture of increased and diversified research funding through teaming, including large multi-institutional programs
Access to novel and curated multi-institutional education programs
Collaborative development, recruitment, and retention of world-class talent
National visibility and leadership for the State of Idaho to lead the Intermountain West region in pioneering, cooperative energy R&D, leading to workforce development, and economic growth
CAES Principles
CAES is founded upon a core set of tenets which are designed to create a path forward for solving critical energy challenges. They provide a road map for rapid discovery and are designed to create teams that are greater than the sum of their parts. These core tenets include:
Collaboration
Inclusion and Diversity
Exploration and Discovery
People and Impact
Sustainability
CAES' 55,000-square-foot headquarters is located on MK Simpson Boulevard in Idaho Falls, near both Idaho State University-University of Idaho's University Place campus and Idaho National Laboratory's research facilities. Representatives from each CAES entity work at the Idaho Falls facility, which opened in 2009 and is one of the few LEED Gold-certified facilities in Idaho. CAES activities are not limited to its headquarters, however. CAES' hub-and-spoke model allows CAES activities to take place at each of the five home institutions.
Idaho State University
Founded in 1901, Idaho State University offers more than 250 programs and is the state's designated lead institution in health professions.
Key Infrastructure
Research Reactor/Health Physics
Idaho Accelerator Center
Nuclear Engineering Laboratory
Energy Systems Technology & Education Center (ESTEC)
University of Idaho
Founded in 1889, the University of Idaho serves more than 11,000 students with three educational centers, nine Research and Extension centers and Extension offices in 42 counties.
Key Infrastructure
Agriculture Research and Extension Centers
Integrated Design Laboratory
Idaho Water Resources Research Institute
Centers affiliated with CAES that provide expertise in specialized areas.
Located on the Boise State University campus, CAES EPI provides robust and timely research that meets the challenges of an increasingly carbon-constrained economy.
CAES Technical Assistance Program
C-TAP is a business portal managed for CAES by Boise State that provides fast, innovative solutions to complex technical problems facing local and regional businesses. The program offers front-door access to a variety of resources at Boise State and across the State of Idaho.
CAES Energy Efficiency Research Institute (CEERI)
CEERI, based out of Boise State University, promotes the efficient and effective use of energy resources through cutting edge research, accessible education and effective outreach.
External centers/initiatives with which CAES interacts.
Based at CAES HQ, CSNR was ceated in 2005 to foster collaboration between INL researchers and the universities.
ESTEC is designed to provide students with the specific knowledge and skills needed to succeed in energy-sector careers.
C3 is the hub for modeling and simulation at INL, with connections to Idaho's research universities and access for collaborators around the world.
Idaho Science & Technology Policy Fellowship (ISTPF)
The ISTPF program provides Idaho scientists, social scientists, and engineers the opportunity to learn firsthand about policymaking.
Idaho State University's Polytechnic Initiative calls for expanding ISU's Idaho Falls campus and offering more degree programs and graduate-level classes centered around science and engineering, while strengthening ISU's research ties to INL.
INL's Cybercore enables partnerships across federal agencies, private industry, and university partners to secure control systems from cyberthreats.
NSUF offers unparalleled research opportunities for nuclear energy researchers. Users are provided access (at no cost to the researcher) to world-class nuclear research facilities and technical expertise.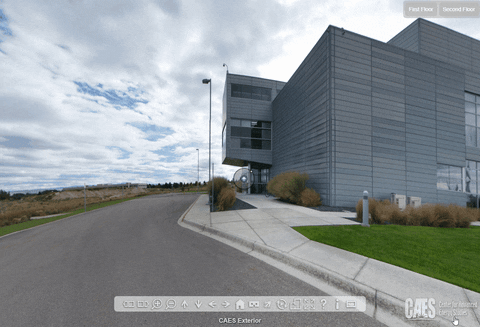 Take a virtual tour of CAES online or book a tour.
Tours of the CAES facility and/or CAVE demonstrations are available to the public and should be scheduled through the INL Tours office. Please email tours@inl.gov for more information or to schedule a tour. Or take a virtual tour here.
Frequently Asked Questions
What is CAES?
The Center for Advanced Energy Studies (CAES) is a research, education, and innovation consortium consisting of Boise State University, the Department of Energy's Idaho National Laboratory, Idaho State University, and University of Idaho.
Why was CAES built?
The concept for CAES dates to 2004, when the Department of Energy was bidding the contract to run INL. Part of its strategic outline included the creation of a partnership between INL and Idaho's three research universities to promote collaboration.
What is the CAES mission and vision?
CAES Vision
Our vision is to create a better energy future through collaboration that inspires energy leadership, ignites technology innovation, and catalyzes global impact.
CAES Mission
CAES is the collaboration that inspires innovation and impact by leveraging our collective capabilities to empower students, researchers, faculty, and industry to accelerate energy solutions.
How does CAES work with industry?
The CAES industry portal, while serving national needs, focuses on regional businesses to drive economic growth. The portal facilitates industry access to CAES collective R&D capabilities (people, partners, facilities) that can strengthen regional and national industry competitiveness. Industrial partners gain a window into advanced energy studies research programs and core capabilities.
Learn more on the Industry page.
What kind of research does CAES conduct?
CAES's collaborative research efforts are currently focused on these areas: nuclear energy; energy-water nexus; cybersecurity; advanced manufacturing; innovative energy systems; energy policy; and computing, data, and visualization. CAES research involves the collaboration of at least two of its partners. The CAES facility in Idaho Falls boasts several laboratories, including the Microscopy and Characterization Suite, Advanced Materials Laboratory, Radiochemistry Laboratory, Applied Visualization Laboratory, and Fluids Laboratory. CAES' hub and spoke model also provides students, faculty, and INL researchers with streamlined access to laboratories, facilities, and services at the universities and INL.
How is the research conducted at CAES different than at INL or the universities?
CAES was conceived as a catalyst, designed to activate the world-class research assets at INL in combination with the research universities in order to solve challenges as a team. By working together and harnessing the power of collaboration, several CAES institutions can provide value in ways that an individual CAES institution working alone cannot. The CAES consortium expands the competitiveness and impact of member research and enhances energy-related educational opportunities.
How is CAES funded?
CAES funding comes from a variety of stakeholders including the state of Idaho, the federal government through the DOE, and a variety of customers from private industry and government agencies.
Do I need to have an INL badge or security clearance to enter the building?
No, you do not. Because CAES is a state-owned building, visitors are not required to undergo the same screening as if they were entering an INL facility.
How can I get involved with CAES?
Whether you are a student, faculty member, INL researcher, or business owner, go here to find out how CAES can help you.